15 World Richest Paid Sport Athletes 2018
We use the 2018 forbes list to compile the 15 World Richest Paid Sport Athletes 2018
We are anticipating that Lebron James may beat the current richest athlete Maywhether because of the clouds of deals on his table.
LeBron James has agreed a four-year deal with the Los Angeles Lakers worth $154millon.
The 33-year-old's sports management group confirmed the three-time NBA champion has agreed to the deal, seeing the world's greatest player leave the Cleveland Cavaliers for a second time and make his debut in the Western Conference.
Here, we take a look at the top 10 highest-paid sports stars, including salaries, bonuses and prize money between June 1, 2017 and June 1, 2018, according to Forbes.
Forbes' Top 15 World Richest Paid Sport Athletes 2018:
1 Floyd Mayweather, USD285million
Retired boxer Mayweather reclaimed first place from Cristiano Ronaldo after the 41-year-old American's significant earnings from last year's fight with Conor McGregor made him the world's best paid athlete for the fourth time in seven years. He is the no1 in the forbe's 15 World Richest Paid Sport Athletes 2018.
2 Lionel Messi, USD111million
Argentina ace Messi is the 2nd in the Forbe's 15 World Richest Paid Sport Athletes 2018 narrowly surpassed Ronaldo after signing a new contract at Barcelona, but the Portuguese, Mayweather and golfer Tiger Woods – this year ranked 16th – remained the only three to top the best-paid list during the past 18 years.
3 Cristiano Ronaldo, USD108million
15 World Richest Paid Sport Athletes 2018
Real Madrid forward Ronaldo fell to third in the list, narrowly behind great rival Lionel Messi.
4 Conor McGregor, USD99million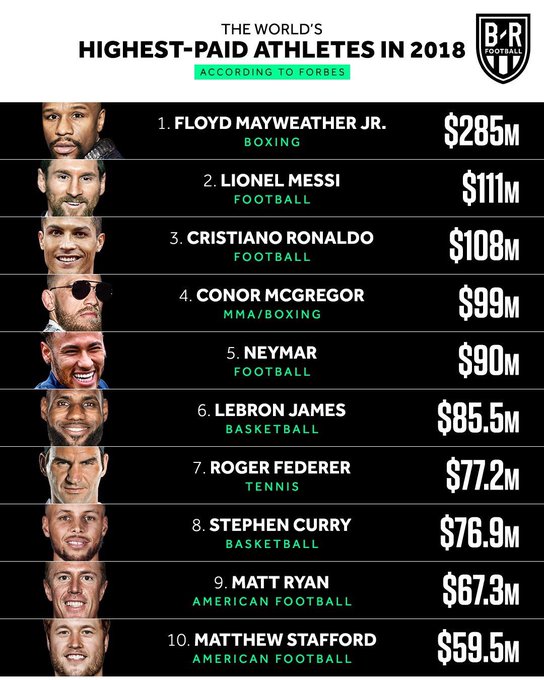 Twitter Ads info and privacy
Fourth-placed McGregor's earnings represented almost double that of four-time Formula One world champion Lewis Hamilton USD51million.
5 Neymar, USD90million
The 26-year-old Brazil striker became the most expensive signing in football history last summer when he left Barcelona for Paris St Germain in a move worth around €222million.
6 LeBron James, USD85.5million
James already owns two homes in Los Angeles and Lakers fans will be hoping he can bring an NBA title back to the city.
7 Roger Federer, USD77.2million
The Swiss world number two has won Wimbledon eight times among 20 grand slam victories.
8 Stephen Curry, USD76.9million
The 30-year-old is a three-time NBA champion with the Golden State Warriors.
9 Matt Ryan, USD67.3million
The Atlanta Falcons quarterback became the highest-paid player in the NFL when he agreed a $150million contract extension earlier this year.
10 Matthew Stafford, USD59.5million
The Detroit Lions quarterback was the top pick in the 2009 NFL draft and became the highest-paid NFL player in 2017 when he signed a $135million contract before being surpassed by Ryan.
11 Kevin Durant,  $57.3M
The 30 years old Durant turned down his $27.7 million player option for the 2017-18 season to sign a new, discounted two-year contract paying $25 million in year one.
12 Lewis Hamilton, $51M
A four time F1 title champion will be ending his 3 years contract that started in 2016 which is to pay out more than $120 million, including bonuses. Mercedes and Hamilton are reportedly close on a new blockbuster three-year deal, tying him to Mercedes through 2021/  He is one of the most remarkable driver we have seen in history.
13 Russell Westbrook, $47.6M
The new deal added $9 million to Westbrook's 2016-17 salary and the three-year deal is worth $85.6 million. Westbrook's off-court earnings got a boost last year under a new 10-year contract extension with Nike's Jordan Brand.
14 James Harden, $46.4M
The Rockets inked Harden to a contract extension in 2016 that kicks off next year and is worth $169 million over four years. The deal also added a combined $20 million to his salaries in 2016-17 and last season.
15 Canelo Alvarez, $44.5M
Canelo and GGG fought to a draw, with Canelo's paycheck roughly $42 million for the fight, thanks to 1.3 million PPV buys and a $27 million gate. Saul "Canelo" Alvarez is boxing's biggest pay-per-view star with the retirement of Floyd Mayweather
15 World Richest Paid Sport Athletes 2018